"Wish that I was on old Rocky Top
Down in the Tennessee hills...."
Eight states border Tennessee. They are Alabama, Arkansas, Georgia, Kentucky, Mississippi, Missouri, North Carolina and Virginia.
The three stars in the Tennessee State flag represent the three different land forms - the eastern mountains, the middle highlands and the western lowlands - all bound together by an unbroken circle. So, if you all have your hiking boots on, let's go see Tennessee's beautiful eastern mountains.
On our way to the mountains, let's stop by Knoxville, Tennesee's third largest city, home of the University of Tennessee and the Volunteers. U OF TN was founded in 1794. Isn't it a lovely campus, right on the Tennessee River.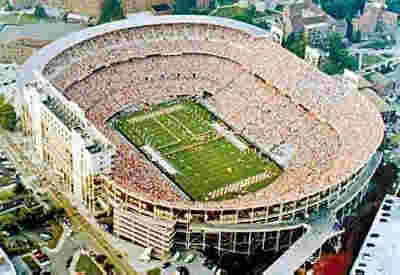 This is Neyland Stadium. Its physical size makes it the largest in the nation. It seats 102,854, second only in seating capacity to the University of Michigan. The stadium is always sold out. Over four million fans attended Volunteers' game in the past five years.
OK, let's head for the mountains.
Well, here we are in the middle of the Great Smoky Mountains National Park. Renowned for its fall foliage, skiing, hiking and camping, it encompasses 800 square miles, 95% of which is forested.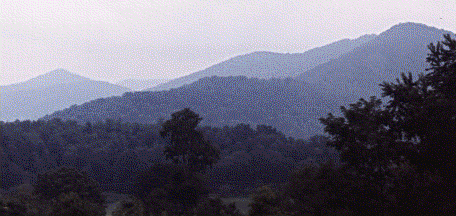 It is the most visited National Park in the National Park System with over 9 million visitors a year.