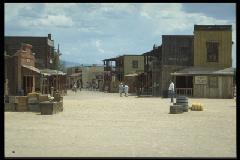 Old Tucson, originally built in 1939 as a set for the movie, "Arizona", lived on for many years to come. The buildings are constructed of weathered adobe and weathered boards, giving the appearance of stepping back in time.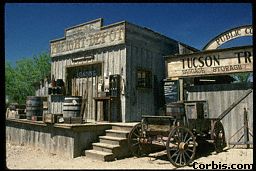 Many more movies were made here, including John Wayne's "Rio Lobo", "Gunfight At The OK Corral", "Three Amigos", and others. TV series such as Gunsmoke and High Chapparal were also filmed here.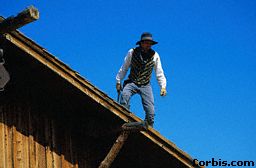 As you take a stroll back in time, you may be caught in the middle of a simulated, old-fashioned gunfight.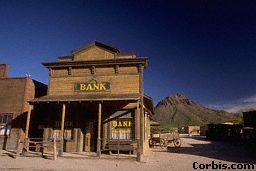 This old bank didn't stand a chance when arsonists set fire to Old Tucson on April 25, 1995. Many of the buildings and memorabilia were lost. It was closed for almost two years, but has been rebuilt and looks just like it did before the fire.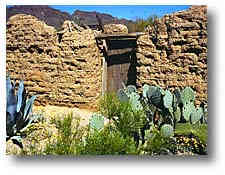 Without even being aware of it, if you have ever seen a John Wayne movie, you have probably visited Old Tucson. Believe me, there is nothing like visiting it in person.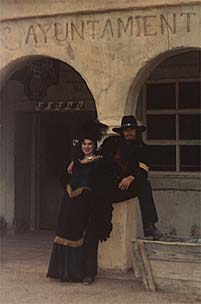 Taking a break between shows, Diamond Lil chats with a local cowpoke.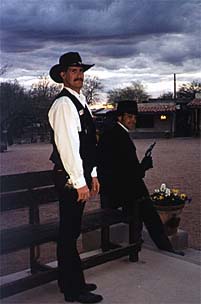 Local lawmen keep the peace in Old Tucson. It's a peaceful town, podner!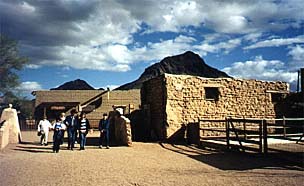 This is a portion of the High Chapparal movie and TV set.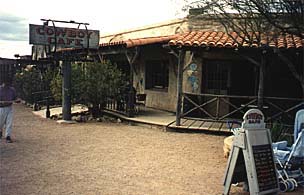 Are you hungry? Hearty southwestern meals are served at the Cowboy Cafe.
I guess it's time to move on....wait, what's that up ahead?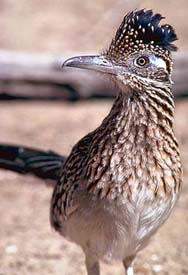 It's Arizona's most endearing bird - the Roadrunner. Yep, they really do exist outside cartoons. It is almost two feet long, unusual for a desert bird. They are lively and inquisitive. If frightened, or if they just want to move on, they flatten themselves and run like the wind. (They do not go beep beep). They seldom fly and, in fact, can only do so for short distances.